Networking
Snom PA1 - Public announcement system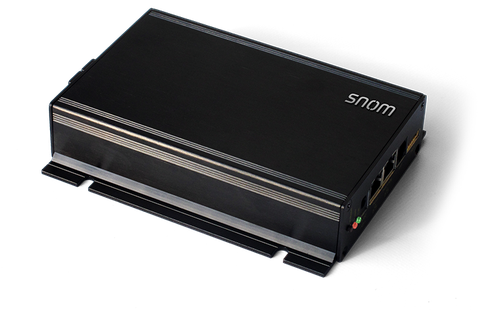 The audio control system Snom PA1 augments your existing SIP PBX with another component of modern communication.

The Snom PA1 unites the functions of a telephone with a high-performance digital amplifier for broadcasting announcements and supplying background music to assigned rooms, hallways, and office floors or:
Public announcement system for office floors, shopping malls, reception areas and waiting rooms
Background music & advertising in supermarkets, airports, train and bus stations
Church broadcasts 
Remote learning programs / webinars 
Audio transmissions in hotels, offices, hospital wings
An announcement via Snom PA1 is effected simply by initiating a call from a Snom telephone with its handset, headset, or via handsfree mode. An efficient 4 Watt amplifier provides sufficient coverage for the entire room or floor space.

Technical features
Voltage feed via network (PoE): IEEE 802.3af, class 3 
Ethernet: 2 x IEEE 802.3, 10/100 Mbps switch 
SIP communication + Multicast 
Central configuration and maintenance 
Web interface menu 
Remote volume configuration 4 Watt power amplifier, class D (loudspeaker not included) 
Key for announcement of IP address and for resetting 
2 LED status indicators for maintenance purposes: two 3.5 mm jacks for headphone connection 
4 freely programmable output pins, configuration via web interface 
Robust housing for wall-mount

This product received TCM award as an Internet Telephony product of the year 2014.


See also