Analog telephony cards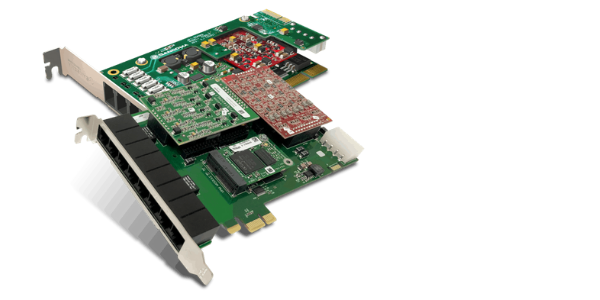 Analog telephony cards support businesses that still use analog telephone lines for primary access to PSTN. The cards have 2-24 analog ports. This allows up to 24 simultaneous PSTN calls.

Their modular design gives you the option to choose between interchangeable FXO or FXO modules to create your own channel requirements.

The analog cards offer optional echo cancellation for superior audio quality and reduced CPU usage for optimized system performance.

All the cards work seamlessly with Asterisk, FreePBX, PBXact and are compatible with most motherboards and servers.

A4 series – 4-port analog cards
A8 series – 8-port analog cards
2400 series – 24-port analog cards

A4 series analog cards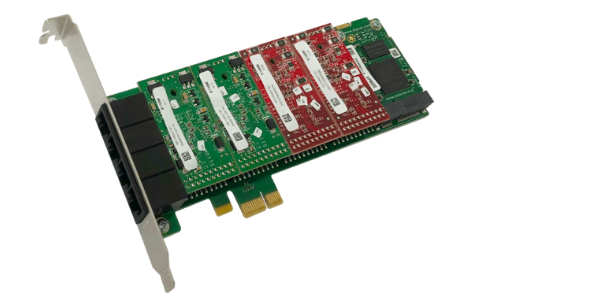 Features
1-4 ports of FXO/FXS (scalable)
4 x 4-pin RJ11/4 narrow jack
PCI or PCI Express
Optional hardware echo cancellation
2U form factor
Plug and play with Asterisk, FreePBX, PBXact
5-year warranty

Applications
PSTN trunking
SIP trunking
Fax and legacy gateway
Call recording

A200 2-24 port analog cards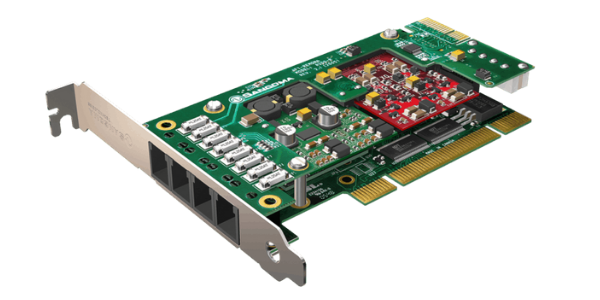 Features
2-24 ports of FXO/FXS (scalable)
4 x 4-pin RJ11/4 narrow jack
PCI Express
Optional hardware echo cancellation
2U form factor
Field upgradable firmware
Onboard diagnostic and debugging toolkit
Lifetime warranty

Applications
PSTN trunking
SIP trunking
Fax and legacy gateway
Call recording

A8 series analog cards

Features
1-8 ports of FXO/FXS (scalable)
8 x 4-pin RJ11/4 narrow jack
PCI or PCI Express
Optional hardware echo cancellation
2U form factor
Field upgradable firmware
Onboard diagnostic and debugging toolkit
5-year warranty

Applications
PSTN trunking
SIP trunking
Fax and legacy gateway
Call recording

2400 series analog cards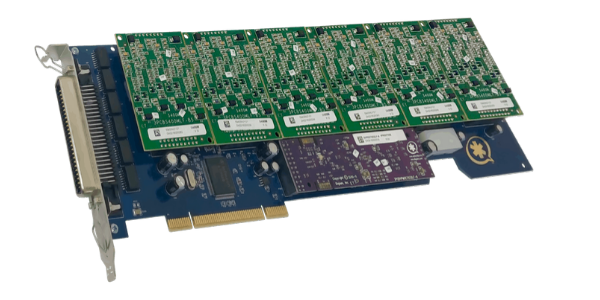 Features
4-24 ports of FXO/FXS (scalable)
50 pin RJ21
PCI or PCI Express
Optional hardware echo cancellation
2U form factor
Field upgradable firmware
Onboard diagnostic and debugging toolkit
5-year warranty

Applications
PSTN trunking
SIP trunking
Fax and legacy gateway
Call recording

A400 2-24 port analog cards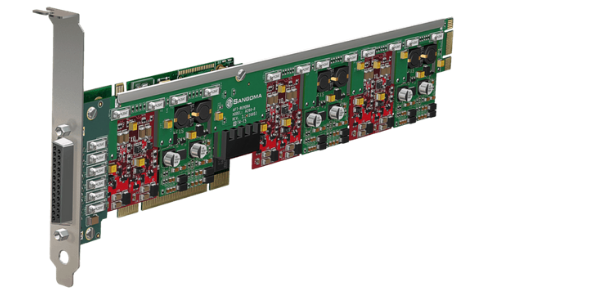 Features
2-24 ports of FXO/FXS (scalable)
DB25 connector supporting up to 12 FXS/FXO interfaces (or 6 FXS/FXO modules)
PCI Express
Optional hardware echo cancellation
2U form factor
Field upgradable firmware
Onboard diagnostic and debugging toolkit
Lifetime warranty

Applications
PSTN trunking
SIP trunking
Fax and legacy gateway
Call recording