iQsim IRON SIM Server One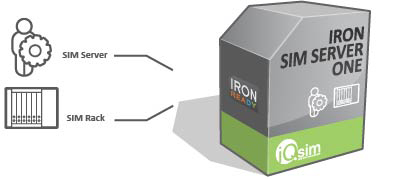 IRON SIM Server One provides essential SIM storage and SIM Management features in one product. It's easy to deploy, with no additional server or software required. Combined with iQsim's GSM gateways, IRON SIM Server One delivers a complete solution to build a secured, small to medium Call and SMS termination network.

SIM cards are stored in the IRON SIM Server One. SIM card allocation decisions are made by the IRON SIM Server One based on user defined rules with parameters such as credit, bonus and promotions, type of service (Call, SMS), country, operator, schedule, etc.

The IRON SIM Server One embeds a set of SIM protection features in order to conform to standard usage (HBS) and to prevent SIM from being out-of-service (Anti-Dialer, Spamming Control).

All SIP calls signaling are going through the SIM Server One and then switched to the adequate GSM ports in order to always use the "Best SIM".

Bulk SMS campaigns are managed by the IRON SIM Server One in order to route each SMS through the most appropriate SIM card in order to lower the cost.

Key benefits
All-in-One SIM Server with SIM cards storage included
SIM card management for Call Termination and Bulk SMS solutions
Web-based Management
Call Routing to the best SIM card
Prepaid SIM cards Support with Recharge & Promotions
Gateway does not require configuration
Black & White Listing

Technical Features
IRON SIM Server One benefits from IRON Suite's SIM Allocation and SIM Protection features. It then provides advanced features to manage efficiently prepaid SIM cards such as promotion and bonus management, credit synchronization and automatic recharge.

SIM storage
Hot-swappable board
16 SIM cards per board
Up to 256 SIMs
SIM Rack

SIM control
Easy and powerful web based management
Multi-criteria allocation rules by SIM card plans
SIM travel simulation and IMEI control by SLID
SIM Cards Recharge (USSD, SMS, Transfer, IVR)
SIM Cards Credit Synchronization
Advanced Price Plan: SIM Daily, Weekly and Monthly control
Scalable solution for 2496 SIMs and more
Prepaid SIM card management

SIM protection (HBS)
Random/Unpredictable Simulation
SMS/Call/Voice Box query management
SIM Manager web interface
Integrated with SIM Manager price plans
Web based dashboard



See also