WLAN-61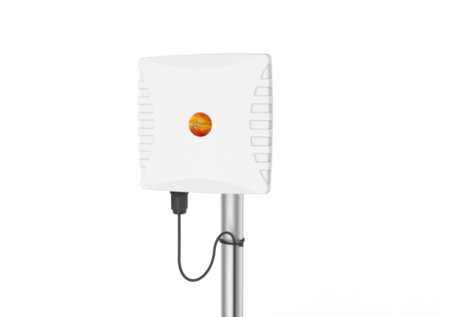 2.4GHZ & 5GHZ DUAL BAND 4X4 DIRECTIONAL WIFI ANTENNA
Max Gain: 11 dBi
The new Wi-Fi Dual-Band MIMO antenna, developed by Poynting Antennas, can connect to any Wi-Fi access point whether it is older Wi-Fi technology or new dual band Wi-Fi technology. Multiple Dual Band antennas can resolve channel saturation and provide the ultimate in Wi-Fi performance and flexibility. This 4×4 MiMo antenna has 4 different antenna orientations in one enclosure. This means the antenna can be used in a 2×2, 3×3 and if necessary a 4×4 antenna configuration.
The 120° beam width ensures good coverage in offices, halls and factories etc. The antenna operates in two frequency bands 2.4 GHz and 5 GHz, offering excellent utilization of the radio spectrum. This Antenna has 9dBi gain at 2.4GHz band and 11dBi gain at the 5GHz band, which offers the best performance with reliable connections. The housing is made of ABS which is high impact resistant plastic and is also resistant to acids and other chemicals that may occur in industrial plants.
The antenna can be opened on the side where the 4 x SMA female connectors are placed. The cable can be fed through the bypass gland, which eliminates the joint to the antenna extension cables. This eliminates connector losses and the need for taping and waterproofing the connectors for an outdoor installation. This antenna is designed for installations where 4×4 (four independent streams), multiplexing time-space technologies is needed. It can be used indoors or outdoors and is ideal for use in warehouses, production facilities, building sites or any other environment that requires Wi-Fi connectivity, such as computers, mobile phones, tablets, and any other IOT devices.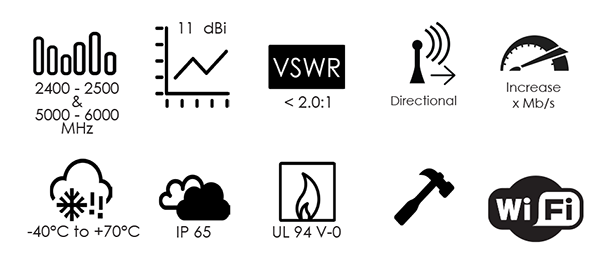 Water resistant
Wi-Fi and LTE compatible Robust antenna
4X4 MiMo
Dual Band 2.4Ghz and 5GHz