Session Border Controllers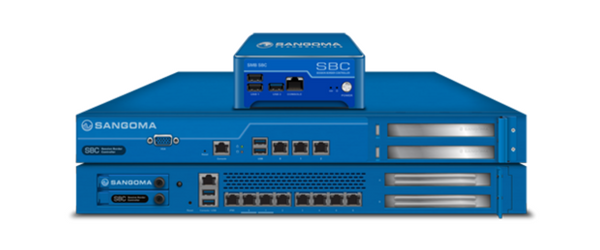 Companies that use TDM PBXs and wish to add VoIP connection to reduce telephony costs need to seriously think about security. For this purpose your network's firewall is not enough. You will need a device that is called Session Border Controller (SBC).

A regular firewall protects your data network but from the moment you've opened it to the Internet which happens when you connect to VoIP services, the network is exposed.

Session Border Controllers protect data and voice network. They are designed to handle every aspect of VoIP phone calls.

Reasons to choose Enterprise Session Border Controllers
Web GUI. Fast and easy configuration.
Hardware media handling. DSP resource for every call.
Built-in debugging. With one click on the web GUI you can enable a trace for both signaling and media.
Simple licensing. Sangoma doesn't charge for any features.
Field upgradeable. Increase the number of calls as your business grows.
Open codec choice.

Reasons to choose Carrier Session Border Controllers
Web GUI. Fast and easy configuration.
SBC and SS7 solutions. Complete solution for both SS7 and SIP interconnects.
Customer facing. Customer facing SIP trunks and carrier peering at the same time.
Upgradeable licensing.
Unlimited SIP trunks.
Professional support.


Sangoma offers three lines of SBCs for small to medium businesses, enterprises and large carriers. Each SBC interoperates with all major IP PBXs and UC systems and is qualified for Microsoft Lync and Skype for Business.
Vega SBC for SMBs for small to medium businesses
Vega Enterprise SBC for medium to large businesses
NetBorder Carrier SBC for large businesses

There is also a hybrid option Vega Enterprise SBC VM/Hybrid that combines flexibility, redundancy and durability of a VM-ready solution with the scalability of a hardware-based solution.

Use cases of these SBCs are numerous.

See also