Conferencing

Snom C520 WiMi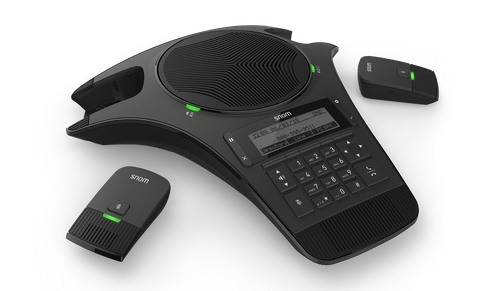 C520 is a cost-effective conferencing solution for teams of any size. It offers full duplex speakers and three microphones – one built-in and two wireless DECT microphones.

Dynamic noise reduction and adaptive feedback control serve to provide crystal clear HD audio transmission. Real-time synchronization between microphones and base station allows freedom of movement without the need of raising your voice no matter the room size.

Features
2 DECT microphones
1 built-in hands-free microphone
Bluetooth connectivity
3 SIP accounts
G.722 wideband codec
70 hours in standby mode, 12 hours talk-time
Can be connected with up to 3 C52-SP hands-free units


Snom C52-SP

C52-SP is a DECT speaker phone that can be wirelessly connected to the Snom conference phone C520 WiMi thus extending its reach in large rooms with a great number of people.

C52-SP can operate at a range of up to 50m.

Features
Full-duplex hands-free unit
Wireless DECT connectivity
G.722 wideband codec
70 hours in standby mode, 12 hours talk-time

Snom MeetingPoint – EOS


Snom MeetingPoint, VoIP conference telephone, is the perfect addition for any business that requires frequent cross-location conference calls. Up to five parties can join a conference call from different locations.

The Snom MeetingPoint is perfectly qualified for use in middle to large conference rooms. Three speakers, equipped with full duplex broadband audio (7 kHz, codec "G.722") provide balanced and full sound.

Features
OmniSound® Full duplex broadband sound technology 
5-way conference calls
Recording range up to 30m² room area or 10 participants 
Simultaneous access to internal and external telephone books (LDAP) 
Connection type for add-on microphones for a larger recording range. 
12 SIP registrations
OpenVPN
Broadband quality by G.722 
Security: OpenVPN SIPS/SRTP, TLS SIP RFC3261 NAT: STUN, ICE


Extension microphones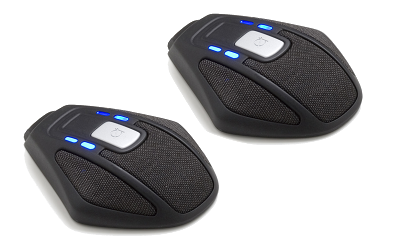 The additional microphones for the Snom MeetingPoint extend the audio radius of your conference telephone to up to 70m².

The integrated OmniSound® software automatically detects the additional microphones and thus extends by itself the working range of your Snom MeetingPoint.

See also