iQsim M400 Gateway


M400 IP/GSM gateway for professional mobile termination, offers optimal density of up to 16 GSM/3G ports in a 1U format. GSM gateways can be deployed at customer premises such as retail outlets, small offices, collocations and residential environments.

By using iQsim M400 gateways, GSM deployment can be geographically dispersed according to your needs and sites constraints. Connected to IRON SIM Server, they offer the ideal solution for quality call and/or SMS termination.

Using only Ethernet and power cable, M400 is ready for use. It will receive its IP address from a DHCP server and connect itself to IRON SIM Server, ready to accept calls and/or SMS and route them to the mobile network. And since they receive SIM cards via IRON SIM Servers, M400 gateways are deployed SIM-less.

M400 gateway embeds state-of-the-art GSM engines as well as a unique voice-detection technology to provide optimal voice quality and fast service routing.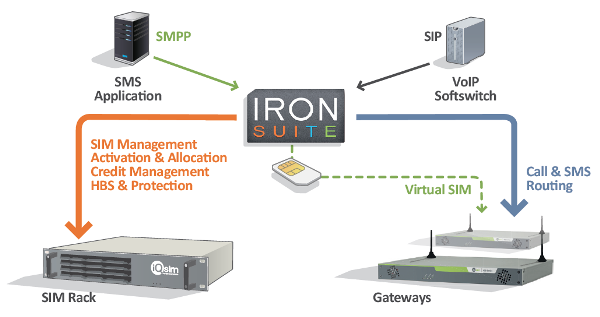 iQsim SIM Management solution consists of 3 entities:
IRON Suite or IRON SIM Server One which provides appliances to manage SIM control, SIM routing and SIM protection
SIM Racks, SIM cards storage units,
Mobile Gateways, GSM or 3G connectivity
All components communicate with each other through TCP/IP and can be dispersed in different locations and countries.

Main features
Easy and powerful web based management
Multi-criteria allocation rules by SIM card group
SIM travel simulation
Dynamic SIM swap
Prepaid SIM card management

Key benefits
Quad-Band GSM or UMTS modules
From 12 to 16 GSM ports in a 1U format
IRON Suite Compatible and Ready
Dynamic IP Support and NAT transversal
DHCP Support for an easy deployment
White labeled Equipment


See also