Desk phones

Series D1xx

Series D3xx
Snom D305 EOS
Snom D375 EOS
Snom D385 NEW

Series D7xx
Snom D717 NEW
Snom D745 EOS

Expansion Modules

See also

Snom D120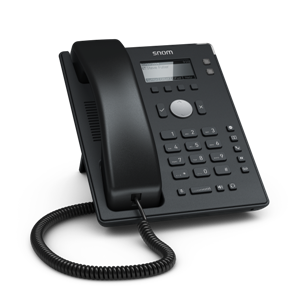 Features
Backlit display
2 SIP identities
2 simultaneous calls
Speakerphone
4 context sensitive function keys


Snom D305 – EOS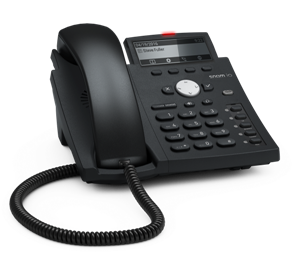 Features
Wideband audio
4-line backlit display
4 context sensitive keys
5 configurable function keys with LEDs
4 SIP identities
Speakerphone
Dual Ethernet connection
Power over Ethernet
SIP (RFC3261)
Codecs: G.711, G.722, G.726, G.729AB, GSM 6.10
Available colors: black-blue


Snom D315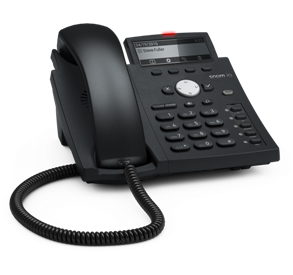 Features
Gigabit switch | USB port
Dual IPv4/IPv6 stack
Wideband audio
5 configurable function keys with LEDs
4 SIP identities
Speakerphone
Dual Ethernet connection
Power over Ethernet
SIP (RFC3261)
Codecs: G.711, G.722, G.726, G.729AB, GSM 6.10
Available colors: black-blue


Snom D345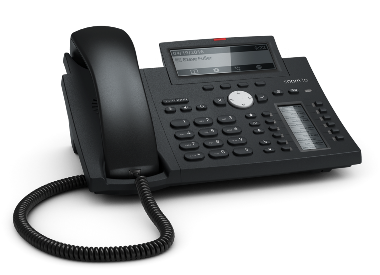 Features
Gigabit switch | USB port
Dual IPv4/IPv6 stack
12 configurable function keys with LEDs
12 SIP identities
Second screen
Speakerphone
SRTP (RFC3711), SIPS, RTCP
Codecs: G.711, G.722, G.726, G.729AB, GSM 6.10
Available colors: black-blue


Snom D375 – EOS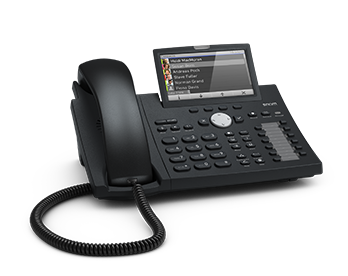 Features
High-resolution color display 4.3 inch 
12 LED function keys (BLF) 
10 dedicated function keys 
12 SIP identities
USB connectivity 
Gigabit switch 
Sensor hook switch 
Bluetooth


Snom D385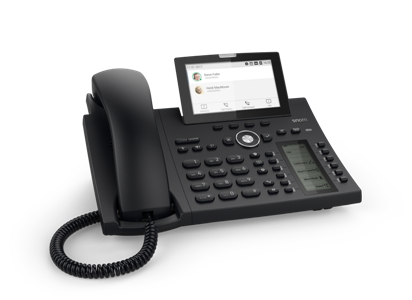 Features
Gigabit switch
USB port
Wideband audio
High resolution TFT display
12 (48) configurable function keys with LEDs
12 SIP identities
Speakerphone
Power over Ethernet (PoE)
XML browser
Bluetooth


Snom D712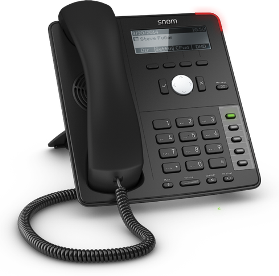 Features
Wideband HD audio
Four-line backlit B/W display
4 context-sensitive function keys
5 configurable function keys with LEDs
4 SIP identities
IPv6
Speakerphone
Power over Ethernet (PoE)
Ethernet switch
XML Minibrowser


Snom D715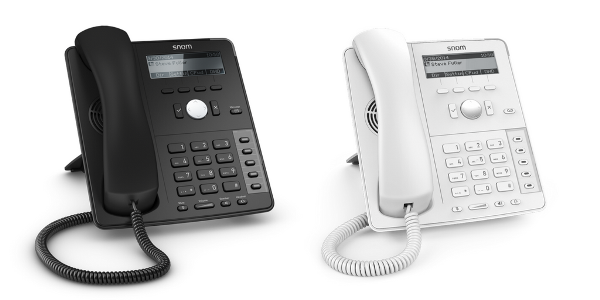 Features
Gigabit switch
USB port
Wideband audio
Four-line backlit B/W display
5 configurable function keys with LEDs
4 SIP identities
Speakerphone
Power over Ethernet (PoE)
WLAN ready
XML Minibrowser


Snom D717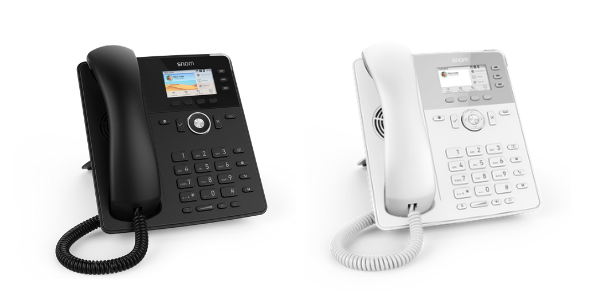 Features
Gigabit switch
USB port
Wideband audio
High resolution TFT display
3 configurable function keys with LEDs
6 SIP identities
Speakerphone
Power over Ethernet (PoE)
XML browser


Snom D725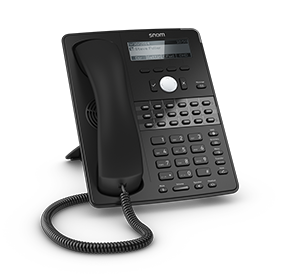 Features
18 multi-color function keys
Wideband audio
USB Port
Gigabit switch
12 SIP identities
VLAN Support


Snom D735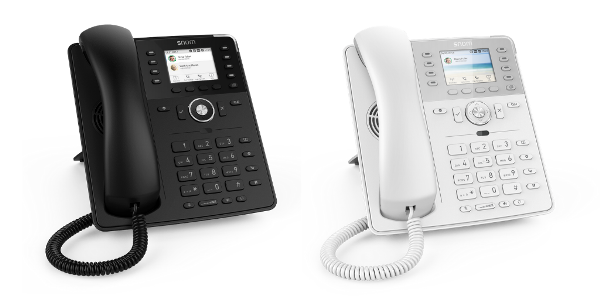 Features
Wideband audio
High-resolution 2.7'' graphical TFT display 
32 self-labeling function keys (8 physical)
Speakerphone
12 SIP identities
2-port Gigabit Ethernet switch (RJ45)
USB headset ready
D7 Expansion Module ready
Support for USB WiFi stick
Electronic Hook Switch (EHS) support for wireless headsets
Power over Ethernet (PoE)
Built-in motion sensor


Snom D745 – EOS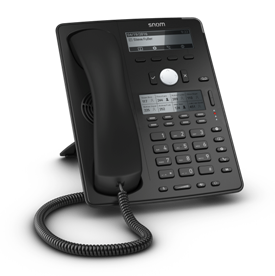 Features
8 configurable multicolored LED keys
Wideband audio
USB port
Gigabit switch
12 SIP identities
Dual display


Snom D765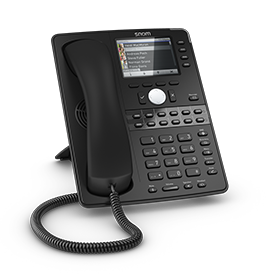 Features
High-resolution color display
16 LED function keys 
Wideband audio
USB connectivity
Gigabit switch 
12 SIP identities 
Built-in Bluetooth-compatibility


Snom D785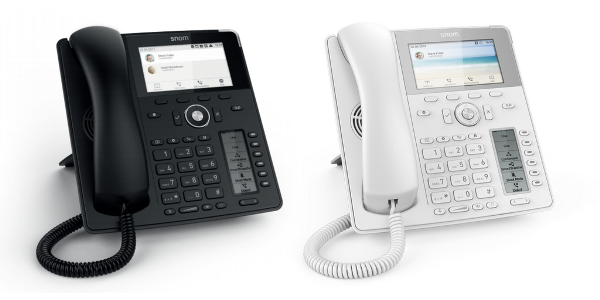 Features
Wideband audio
High-resolution color display
24 configurable self-labeling multicolor LED keys
Speakerphone
12 SIP identities
4 simultaneous calls
USB port
Bluetooth connectivity
Gigabit switch
PoE
Wall mountable


Snom D3 Expansion Module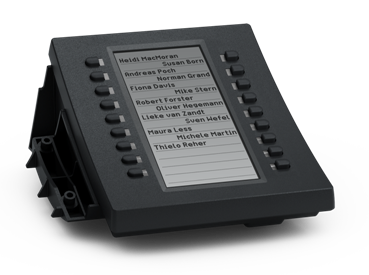 This module increases the number of available function keys on D3xx phones with USB port, allowing users to manage a large number of extensions and calls.

Features
18 highly configurable, self-labeling, multicolored LED keys
High-resolution black and white display with backlight
Daisy-chain up to 3 modules (54 function keys)
Plug and play
Power supplied from phone via USB port

Snom D7 Expansion Module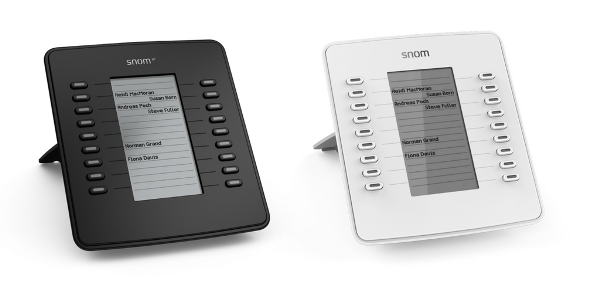 Using the D7 Expansion Module is easy. You just need to connect the USB cable and it's ready to use.

Features
18 highly configurable self-labeling LED keys
High-resolution black & white display with backlight
Daisy chain up to 3 modules 
Plug and play 
Power supplied by phone via USB port