Accessories

Sangoma EXP100 Expansion Module

Sangoma EXP100 Expansion Module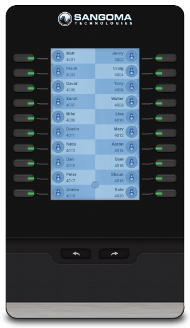 EXP100 is designed for users who manage high call volumes. It delivers single-button access to contacts / extensions and maximizes productivity of the telephone attendant by efficiently dispatching inbound calls.

EXP100 is perfect for receptionists, administrative staff, managers and executives who require one-button-to-push access to colleagues and the most popular features.

Features
Large 160x320 Graphic LCD
20 programmable hard keys for up to 40 programmable features
2 control keys for quickly switching pages
Daisy-chain up to 6 modules for up to 240 programmable keys
Up to 50 BLFs
Compatible with Sangoma s500 and s700 IP Phones
Wall Mountable
2 RJ45 ports (1 Uplink and 1 Downlink)


EHS Adapter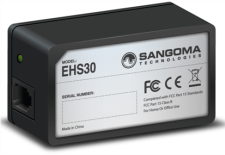 Sangoma EHS30 Wireless Headset Adapter is used for connecting Sangoma phones to supported wireless headsets that have EHS (electronic hook switch) capability.

PSU


Built to fit to North America, Europe and UK.

See also