PBXaki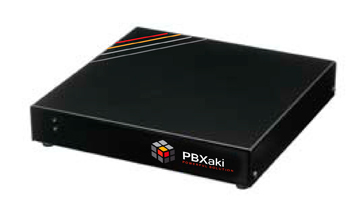 PBXaki is a Mini IP PBX equipped with all the capabilities of a conventional PBX and much more.

PBXaki bases its operation on software, so the possibilities offered and future upgrades, ensure a rich range of features, including the system for management and routing of telephone calls, voice mail, call waiting, conferencing and many more. It can also divert calls, anywhere in the world, thanks to the characteristics of the SIP protocol it utilizes, and it is considered an optimal solution within the medium density market (20 concurrent calls).

PBXaki offers significant savings in telecommunications costs as you can route calls via your VoIP telephony provider, at significantly lower rates for long distance and international calls. Moreover, you can connect the remote phone systems, between different locations of your offices so as to create a virtual single PBX, within which internal extensions – regardless of their location – can communicate at no cost.

The architectural philosophy, its size and cost are such that they can even serve autonomously needs of a single department or branch of a business entity.


The architecture followed by PBXaki is frugal and without susceptible hardware (ie hard disk) which further ensures the longevity of your investment.

PBXaki is easy to install and customize, compared to traditional PBXs, as it is plugged on an network Ethernet port. It is plug & play in terms of detection and activation of VoIP telephones apparatuses with PnP support (such as the Snom and Sangoma apparatuses). Moreover it works seamlessly with any given ISDN / PSTN Gateway, while it is equipped with auto detection for the Vega Gateways.

Specifications / Features:
Open Source Asterisk with a twist
Linux Operation System
Configurable IVR menu
Over 50-100 available SIP/IAX2 extensions for SMB use
10- 20 concurrent calls
Voicemail to Email
Call Forward, Call Waiting, Call Transfer (Blind Transfer / Attender Transfer), Call Pickup / Call Parking, Call Queues, Ring Group, Call Detail Record Call Routing
Conference Room
Follow Me
Music On Hold
SIP Trunk, IAX2 Trunk
Configure via WEB interface
Codec: G.711u / a, G.729, GSM, Speex, G.726
Full SSH access
PSTN Trunk via external gateway