SD-WAN telephony cards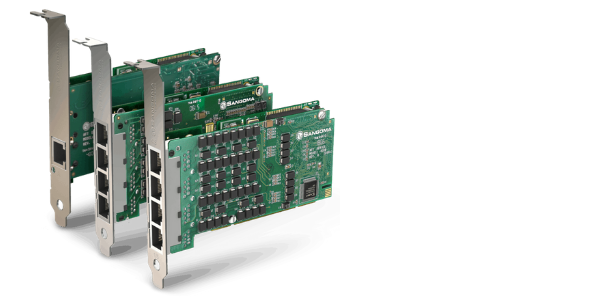 SD-WAN telephony cards are reliable failover solutions for large retail organizations over a T1/E1 internet connection.

In particular, A-series of Sangoma cards has been on the market since 1984. They have been supporting some of the largest POS T1 WAN failover solutions and data applications.

SD-WAN telephony cards come with 1, 2, 4, 8, and 16 ports of T1/E1. These cards support transfer rates from 1,544 Mbps to 32,800 Mbps of full duplex data.

Supported WAN protocols include: CHDLC, Frame Relay, X.25, ATM, PPP, HDLC, and MULTILINK.

The cards work with most Linux environments.

A101 SD-WAN cards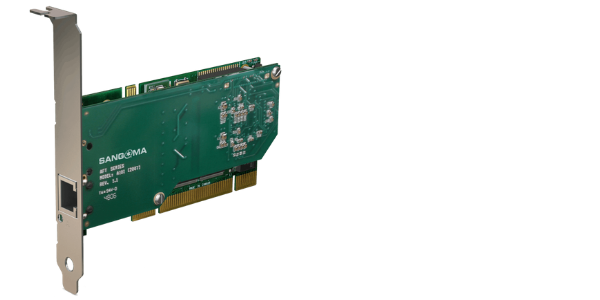 Features
1 E1/T1 port, up to 30 simultaneous calls or 1,544 Mbps
RJ45 interface port
PCI or PCI Express
Optional hardware echo cancellation
Onboard diagnostic toolkit
Protocol support: CHDLC, Frame Relay, X.25, ATM, PPP, HDLC, and MULTILINK
2U form factor
Lifetime warranty

Applications
Traditional retail
Failover data WAN

A102 SD-WAN cards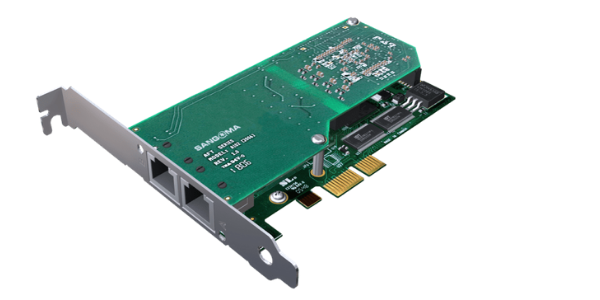 Features
2 E1/T1 ports, up to 60 simultaneous calls or 4,096 Mbps
2 RJ45 interface ports
PCI or PCI Express
Optional hardware echo cancellation
Onboard diagnostic toolkit
Protocol support: CHDLC, Frame Relay, X.25, ATM, PPP, HDLC, and MULTILINK
2U form factor
Lifetime warranty

Applications
Traditional retail
Failover data WAN

A104 SD-WAN cards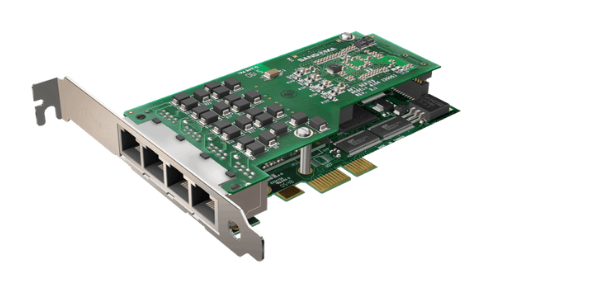 Features
4 E1/T1 ports, up to 120 simultaneous calls or 8,192 Mbps
4 RJ45 interface ports
PCI or PCI Express
Optional hardware echo cancellation
Onboard diagnostic toolkit
Protocol support: CHDLC, Frame Relay, X.25, ATM, PPP, HDLC, and MULTILINK
2U form factor
Lifetime warranty

Applications
Traditional retail
Failover data WAN

A108 SD-WAN cards

Features
8 E1/T1 ports, up to 240 simultaneous calls or 16,400 Mbps
8 RJ45 interface ports
PCI or PCI Express
Optional hardware echo cancellation
Onboard diagnostic toolkit
Protocol support: CHDLC, Frame Relay, X.25, ATM, PPP, HDLC, and MULTILINK
2U form factor
Lifetime warranty

Applications
Traditional retail
Failover data WAN

A116 SD-WAN cards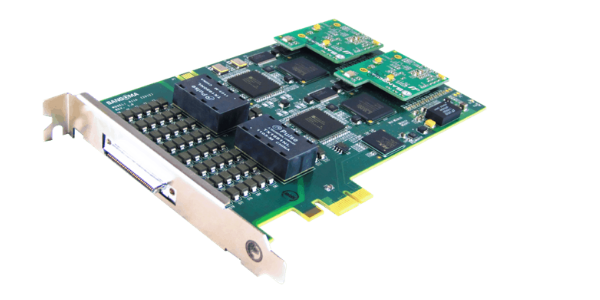 Features
16 E1/T1 ports, up to 480 simultaneous calls or 32,800 Mbps
68-pin SCSI type interface with RJ45 breakout panel
PCI or PCI Express
Optional hardware echo cancellation
Onboard diagnostic toolkit
Protocol support: CHDLC, Frame Relay, X.25, ATM, PPP, HDLC, and MULTILINK
2U form factor
Lifetime warranty

Applications
Traditional retail
Failover data WAN