Published November 18, 2019 14:35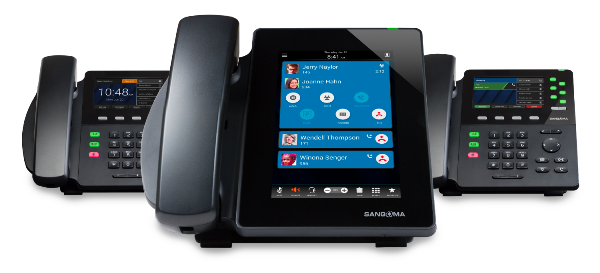 Sangoma D series of VoIP phones is a result of their last year's Digium acquisition. The phones are designed to work exclusively with Switchvox phone system. They work with FreePBX, as well.

They feature plug and play provisioning, meaning once they are plugged in, they are ready to be used. All models have EHS support and programmable buttons. They come with HDVoice.

The d series phones have large full-color displays.

D60 IP phone is an entry-level phone, suitable for businesses that require only basic features in a phone. One way to use it is as a lobby phone. Paging and speakerphone features are good for factory workers. Small businesses and startups can benefit from this phone, as well.

D62 model is similar to D60. The difference is in their network ports. While D60 has dual 10/100 Mbps ports, D62 has dual Gigabit ports. This makes it a good choice not only for office use, but also for customer service representatives and retail workers and store managers.

D65 IP phone features built-in Bluetooth and a capability to attach an expansion module. Attaching the expansion module gives this phone 240 programmable keys. Business roles that need to process calls quickly or have insights into call queues or make use of BLFs (like receptionists and call center agents) will find this phone handy.

The model that does not have any physical buttons is D80 IP phone. It's a touch screen only and the screen is large – 7 inches. D80 has Bluetooth compatibility and 100 entries for quick dial or BLF. This phone will look well on any executive's desk. But it's not only for executives. In addition to programmable soft keys, queue statistics is a practical feature for call center managers. They can easily handle agents and calls right from the screen.

---