PBXware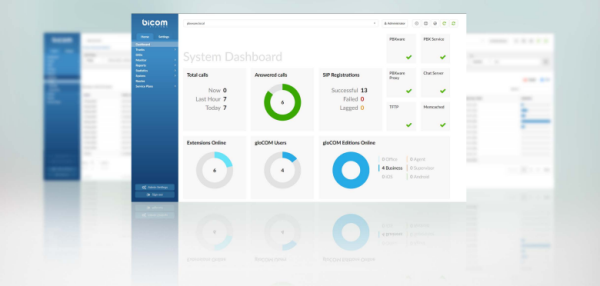 PBXware is the world's first and most mature professional open standards turnkey telephony platform. Since 2003 PBXware has deployed flexible, reliable and scalable new generation communication systems to SMEs, Enterprises and Governments worldwide by unifying the most Advanced of Latest Technologies.

PBXware supports a wide range of PSTN and VoIP technologies. Creation of enhanced voicemail, ACD Queues, IVR auto attendants, conference bridges, music on hold, least cost routing, national/global voice networks, and much more all deployable as a single unit or redundant network. A real cost saving solution!

PBXware is delivered either in CD, Appliance or SERVERware delivery formats each with an easy to use setup wizard to assist you to have a functional PBX in minutes. Administration is performed through web interface or CLI.

Auto updates, system backup, provider templates, call recordings, real time call/agent monitoring are just some of the advanced features offered. We also welcome and deliver custom development in a professional and affordable manner.
PBXware helps branch offices communicate easily by VoIP or PSTN dramatically reducing telephone costs.
PBXware easily creates conference bridges between local or remote users directly saving significant amounts of time and money.
PBXware allows employees remote working achieving better business results.

PBXware is offered in Business, Call Center and Multi Tenant Editions each supporting specific features maximizing performance, reliability and expandability. 

Easy to setup and use with PBXware GUI
PBXware is extremely easy to setup with the setup wizard which guides the user step by step trough the installation process. Navigating trough the system managing extensions, trunks, queues, etc is also easy due to the fact that PBXware web interface is kept simple and user friendly.

Unified Communications
PBXware brings together Calls, Conferencing, IM / Chat, Faxing, Online Presence, Call Center Agents, Outlook/MS Exchange Directory, CRM integration etc.

VoIP/Analog Phones
PBXware support VoIP and traditional PSTN telephony technologies.

Standard System Features
Tenant(s)/Resellers(s)
Multiple languages
Simple or e164 routing mode
Conferences permissions
Remote mobile/cell extension
Astmanproxy/Asterisk manager
CDR search
PSTN/VoIP trunks
IVR auto attendants
Networking and branch support
Conferencing
Enhanced ACD queues
Music on hold
FAX over IP (FoIP)
Instant messaging server
Least cost routing
Ring groups
Call recording
Call monitor

Benefits
Operational
Scalable proven solution
TurnKey solution
Easy to setup and use
Wide range of supported handsets
Superior support
Flexible delivery methods
Legacy compatibility
Easy moves

Financial
Lower costs
Higher productivity
Reduced maintenance costs
Flexible hardware platforms

For detailed PBXware Features, open the PBXware Info.