Squall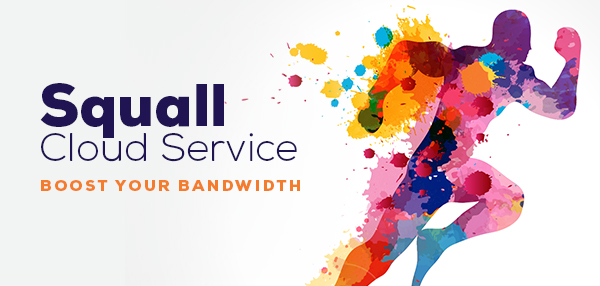 Bandwidth is a finite resource. When the network is overloaded, congestion happens and data traffic is interrupted. It might not be such a problem with non real-time processes such as sending emails, or downloading. But when it comes to critical real-time processes, like phone calls or video conferencing, the problem is serious.

In bandwidth management, the Squall cloud is a helping hand. This service has been developed by First Telecom with three important things in mind.
Speed - Since it combines several WAN interfaces to connect to the Internet, the outcome is aggregated bandwidth.
Redundancy/High availability - Bonding several WANs provides session continuity and individual outages will not affect your applications.
Cost saving - It saves you up to 70% on bandwidth cost.

Squall cloud is a heart of the Squall Box. Squall Box is a router a company will need in order to use this service. The box has a LAN interface and any number of the following WAN interfaces.
Ethernet for connecting xDSL modem/router, satellite modem
Wireless for connecting to Wi-Fi hotspots
3G for GPRS/3G connection via mobile network
USB

The number of a specific interface is defined by user's business needs. This means that each box is made according to customer's specification.

See how Squall service helps during the following processes

How it works?

The Squall box is connected to business LAN. The box has any number of Ethernet, Wi-Fi, 3G and USB ports and it's connected to the Squall Server and then the Web. Squall cloud service is installed on the Squall Server.

Squall box works with any type or number of Internet service providers a company is using in a way that it bundles ISPs' capabilities into aggregated bandwidth which really represents the sum of its parts.

Attribution
When we designed Squall cloud service we used MultiPath TCP as a part of the core underlying technology. Without this open source effort that allows simultaneous use of several, disparate TCP connections our service wouldn't be what it is now and we would like to use this opportunity to express our thanks to the team behind it.

How is it different?
Any activity that involves using a company's WAN will be split into all available routes when using Squall cloud service. This way, any user's activity will be done faster and it won't be affected by other bandwidth consuming activities or potential outages.

Squall cloud enables usage of all available routes at the same time by splitting your session into packets, whereas whit a standard multi WAN router your session is sent through one route.

Example 1: Sending a large email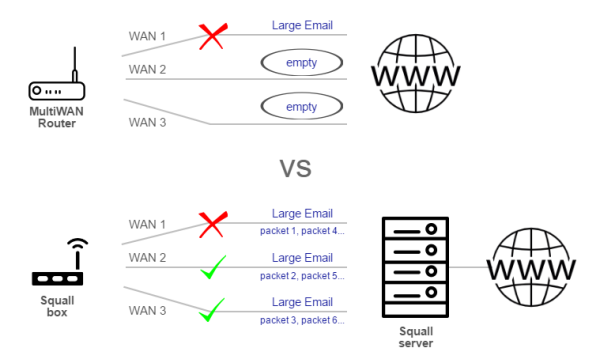 Via regular multi WAN device which has several links, a large email will use only one link. The other routes are empty. If the link goes down, the email will have to be re-transmitted, hence delayed or not sent at all.

With Squall box that also has several links that large email will be divided into packets and the packets will be sent via all available links. If one link goes down, you won't notice because the email is sent via other routes.

Example 2: Data backup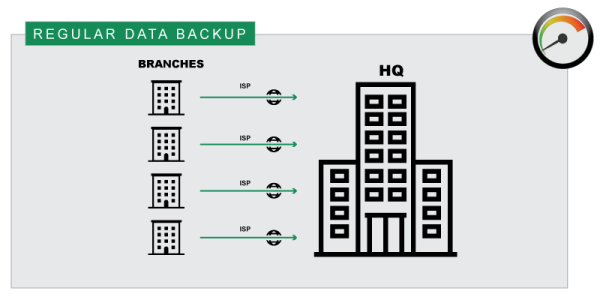 A company has several branches. The branches have to backup their data on a server that is located in the company's headquarters on regular bases (at the end of a business day, every Friday, in the mornings and afternoons, etc.).

Each branch uses services of several ISPs, each of them offering certain download and upload speeds. The backup process is very time consuming because a branch cannot upload their data at the speed larger than the ISP offers. It also affects the processes of other users that share the same Internet connection.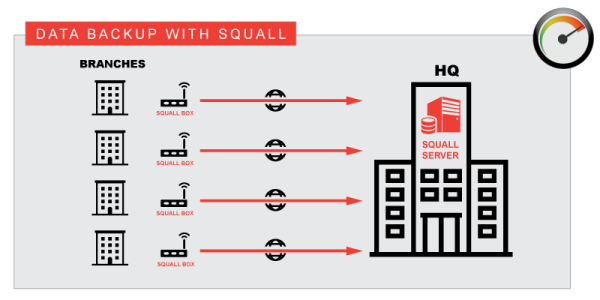 With Squall service the backup process is faster. To achieve this, each branch needs a Squall box and the headquarter needs a Squall server.

Squall box aggregates the speeds of each ISP which results in increased Internet speed. Depending on how many ISPs a branch is using, this aggregated speed can be several times larger than the single fastest ISP. During the backup process other users will not experience any Internet speed issues.