Published January 22, 2018 11:05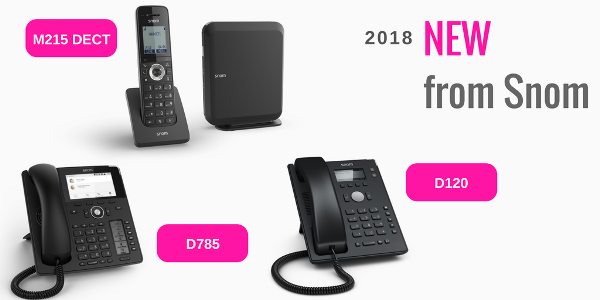 Snom marked the second half of 2017 and the beginning of 2018 with new products for each product line in their portfolio.

Back in August we wrote about their C520 conferencing solution and A100D and A100M headsets. These products got very good reviews from UC Today (former CommsTrader).

This year Snom started with new economical single cell M215 DECT solution and two desk VoIP phones - D120 and D785.

M215 DECT consists of M200 base station and up to 6 M15 cordless handsets. This solution is specifically designed with small businesses and home offices in mind since it has an indoor range of up to 50m and a competitive price/performance ratio.

M200 base station supports up to 6 SIP identities and 4 simultaneous calls.

M15 handset has up to 7 days standby and 7 hours talk time. When it connects to the M200 base station for the first time, the handset automatically downloads the latest software. M200 enables over the air software updates to connected handsets so you don't have to bother.

D785 IP phone is the most advanced telephone than Snom offers at the moment. It has a large color main display and another screen for paperless LED keys configuration. Twelve SIP identities and improved GUI make it an excellent choice for the most demanding users.

D785 comes with dual-angle foot stand but it can be wall mountable, as well. It has USB support, EHS for wireless headsets, integrated Bluetooth and class 3 PoE.

If you are just entering into VoIP telephony or you are not a demanding user you should consider D120 IP phone. This is an affordable entry level phone with 2 SIP identities and supports up to 2 simultaneous calls. PoE connectivity reduces its power consumption. As D785, this phone is wall mountable as well.

---