Published September 18, 2019 09:40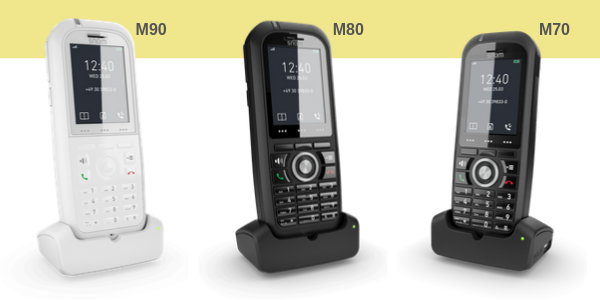 Snom launched three new models of DECT handsets. When it comes to appearance, they are different compared to the older models. The new ones are shorter and have round corners. The charging cradle is smaller and more compact.

M90, M80 and M70 share some features:
240 x 320 pixels TFT color LCD with backlit
High-performance lithium-ion battery which provides up to 200 hours standby time and 17 hours talk time
Range: up to 50 m indoors, up to 300 m outdoors
Integrated belt clip
Ruggedized design
Drop test 2 m
Bluetooth compatible
Alarm key on the top of the headset
Headset jack 3.5 mm
HAC (hearing aid compatibility) compliant

All models have standard phone features: 2 simultaneous calls, 3-way conference, 8 speed dial numbers, caller ID, call lists, do not disturb mode, local directory of 250 entries, missed call notification, etc.

Software update is performed over the air via base station. Date and time are synchronized with the base station.

The handsets use DECT 6.0 technology which guarantees superior sound quality.

They differ in outer cover, size, and weight.

Snom M90 DECT handset is the only white phone in this class of products. That is not a coincidence since this phone is suitable for hospitals and other environments where hygiene is of importance. The housing is antibacterial according to JIS-Z801 testing. It's easy to clean. It weighs approximately 136 g. Its dimensions are 122 x 48 x 22 mm. The housing has an IP65 protection rating.

Snom M80 DECT phone weighs approximately 138 g. Its dimensions are 122 x 48 x 22 mm. The headset is robust and durable. It has an IP65 protection rating.

Snom M70 DECT phone is the smallest and lightest of the three, with a weight of 120 g and dimensions 118 x 48 x 22 mm. The headset is compact, light and has a protective outer cover.

---