How to: Cisco call recording with Oreka TR software


Oreka TR call recording software works with all Cisco VoIP platforms, like Cisco Skinny, Cisco IP Contact Center (IPCC), Cisco Unified Contact Center Enterprise (UCCE), Cisco Unified Communications Manager (UCM). It is compliance tested and approved.

Oreka TR can be deployed on-premise or in the cloud.

The recommended specifications of your call recording server are following:

Operating system: Linux (Centos 6 or 7), any Windows. 64-bit.

Hard drive: High-speed HD – 7200 RPM or faster. If you wish to record more than 300 concurrent calls, it is recommended to have 2 hard drives.

Storage: One second of recorded audio in GSM format takes 1.6kB. 500GB of disk space stores around 100,000 hours of audio.

Virtualization: Yes.

CPU cores, cache and RAM:
| | | | |
| --- | --- | --- | --- |
| Concurrent calls | CPU cores | L2 cache | RAM |
| Up to 100 | Dual-core | 4MB | 4GB |
| Up to 350 | Quad-core | 8MB | 8GB |
| Up to 800 | 8-core | 12MB | 8GB |
| Up to 1200 | 12-core | 16MB | 16GB |
| Up to 1600 | 16-core | 20MB | 16GB |
| Up to 2000 | 20-core | 24MB | 16GB |

Codecs: G.711, G.729A, G.723.1, G.722, iLBC, GSM6.10, Speex, Opus, AMR, AMR-WB.

Protocols: SIP, SIPREC, H.323, DMCC, Cisco BIB or Skinny, MGCP, IAX2, Alcatel UA/NOE, Nortel UNISTIM, Siemens HFA.

On-premise deployment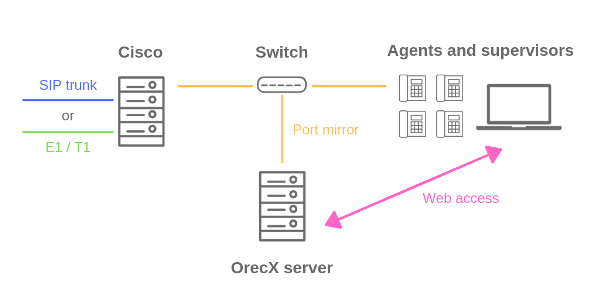 You have a server, or servers, with the recommended specifications stated above. The necessary disk capacity can be virtualized.

All the calls that require recording are port mirrored to the recording server. This includes signaling and RTP media.

In order for Cisco Built-in Bridge (BIB) to work, your telephony platform needs to have OrecX recorder (Linux only) installed. Between telephony and recording platforms full TCP/IP connectivity needs to be secured.

Now OrecX software can be installed. In no more than an hour you will be able to start recording the calls.

In the cloud deployment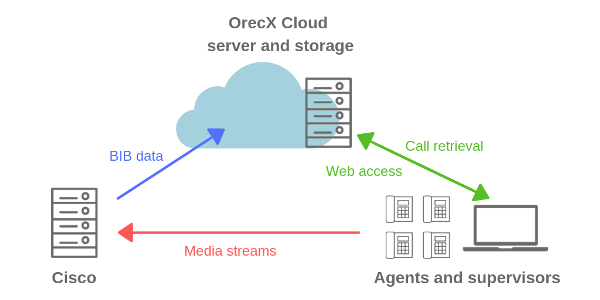 After having BIB licensing, you supply OrecX with a static public IP address and send the BIB data. OrecX software starts recording your calls and archiving the files in the cloud.