Quick guide: Which DECT solution fits your business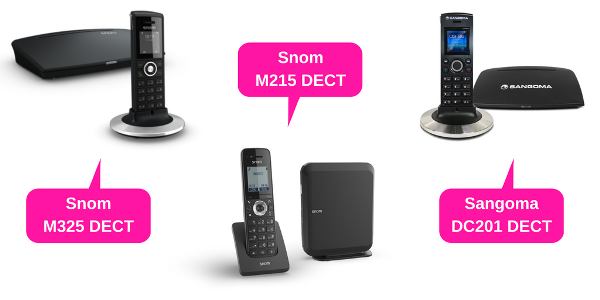 DECT stands for Digital Enhanced Cordless Telecommunications and is a European standard for cordless phones. This standard was firstly used in homes but thanks to the fact that the cordless phones allow mobility they were accepted in business uses.

The frequency band DECT solution use is 1.88 - 1.9 GHz in Europe. This is a dedicated band and it is not as crowded as Wi-Fi and Bluetooth the frequency bands, so there is no interference.

Unlike mobile services, DECT solutions don't depend on the service provider for the quality of service, they depend on themselves. Also, cordless phone's battery last much longer than the smartphone's. Compared to smartphones cordless phones are more durable and resistant.

DECT solutions consist of a base station and one or more cordless phones.

Base stations can be single sell or multi cell. The difference between the two is in the number of cordless phones they support. While single cell base stations usually support 4-6 phones (some even 20), multi cell base stations can support up to 1000.

Base stations have an indoor range of up to 50m and, in theory, up to 300m outdoor. Single cell base station's range can be expanded by adding repeaters, while multi cell's by adding one or more base stations and repeaters.

DECT base stations
Which base station works for you depends on how many users you have and how large and structured your business premises are.

For smaller businesses, small in terms of number of employees and office space, there are several single cell base stations to choose from – two from Snom and one from Sangoma.

Note: Both single cell and multi cell Snom base stations operate at frequency bands 1880-1900 MHz for Europe, 1910-1930 MHz for Latin America and 1920-1930 for the US. Sangoma base station operates at frequency bands 1880-1900 MHz for Europe and 1920-1930 for the US. Snom DECT solutions are compatible with all major IP PBXs while Sangoma DECT is designed exclusively for FreePBX and PBXact UC.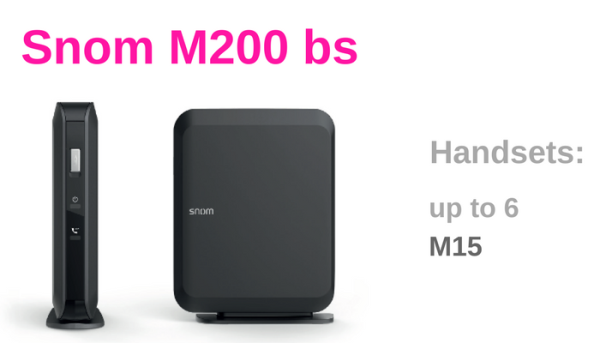 Snom M200 is the latest and the "smallest" base station that Snom released. It supports up to 6 M15 cordless phones.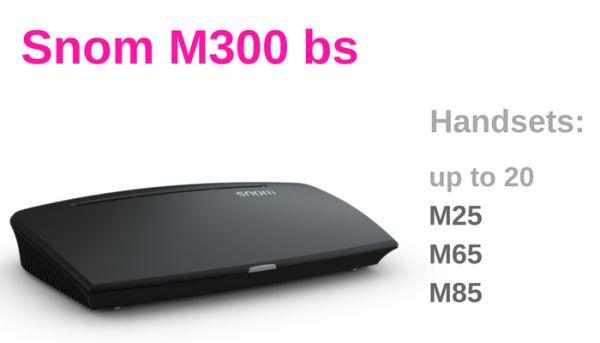 If your business has up to 20 employees than a better fit is Snom M300 or Sangoma DB20 because both base stations support up to 20 cordless phones – Snom M300 supports M25, M65 and M85 handset while DB20 supports D10 handset.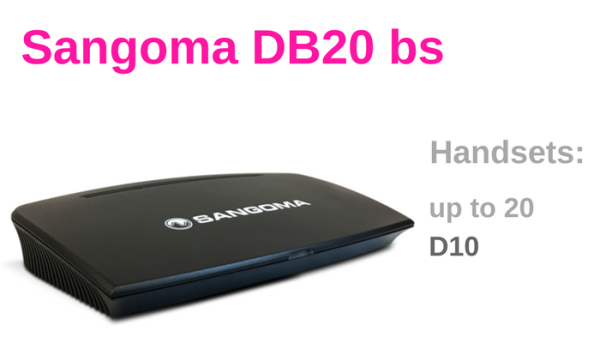 If you are in need of extending the range of M300 you can do so by adding M5 repeaters. M5 repeaters don't require Ethernet, they are installed by registering on a DECT base. The repeater acts as a base station in terms that it allows seamless and uninterrupted calls when a person exits base station range and enters the repeater's.
Sangoma DC201 DECT phone system

For larger businesses that physically cover several floors or are present throughout entire building (industrial plants, hospitals, universities, large retail stores, storages, etc) Snom M700 multi cell base station will be the best choice.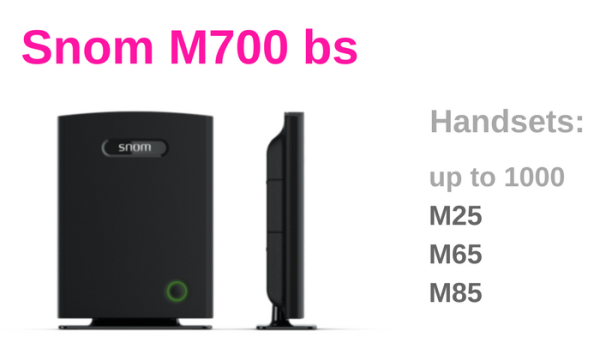 If used in a single cell mode, meaning if you use only one M700 base station, it can support up to 30 cordless phones. Compatible with this base station are M25, M65 and M85 handset. When we talk about multi cell installations, M700 is scalable up to 253 base stations and up to 1000 cordless phones. The synchronization among the base station is performed over-the-air making their installation fairly simple.

DECT handsets
Choosing the right handset for your business depends on the features you need. All handsets have standard calling features that you need in every day communication. At this moment there are four handsets from Snom M series – M15, M25, M65, M85, and one from Sangoma – D10. All Snom's handsets are Hearing aid compatible.

As mentioned earlier, M15 handset is compatible with M200 single cell base station. Handsets M25, M65 and M85 are compatible with both M300 and M700 base stations. Sangoma D10 handset goes with DB20 base station.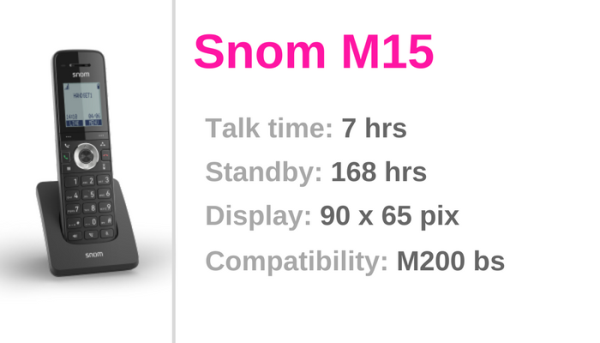 M15 handset is the cost-effective solution. It's a good fit for smaller offices and not so demanding call load. This handset has integrated belt clip so it's easy to carry it with you. The battery lasts 7 hours talk time and 168 hours in standby mode. M15 has a 2.5mm headphone jack. Display size is 90 x 65 pixels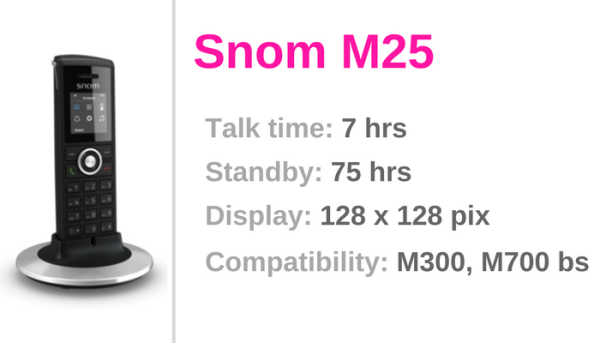 The next in line is M25 handset. This one can handle 2 simultaneous calls. It is also a good solution for smaller businesses. The battery lasts 7 hours in talk time and 75 hours in standby mode. M25 comes with a 3.5mm headphone jack and 128 x 128 pixels display.

M65 is a professional handset which is for the customers that require coverage across several floors. It supports 2 simultaneous calls. The battery lasts 17 hours in talk time and 250 hours in standby mode. It takes 8 hours to charge from empty. M65 has a 3.5mm jack. Display size is 176 x 220 pixels.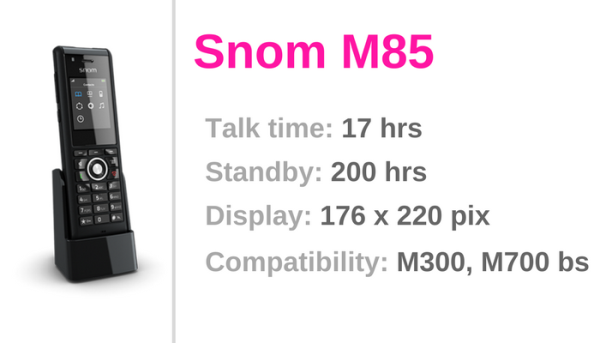 For the most demanding environments the best solution is M85 industrial handset. It's a robust shockproof, dustproof and splash proof handset with Bluetooth. It can handle 2 simultaneous calls. The battery lasts 17 hours in talk time and 200 hours in standby mode. Same as M65, it takes 8 hours to charge after it's been completely empty. M85 has a 3.5mm jack. The size of the display is 176 x 220 pixels.

Several months ago this handset got some new features. It has integrated location sensors which can be programmed to send an emergency message in case of an unusual position or extended motionlessness. This is a so called dead man sensor. Another feature is programmable alarm key that when pressed sends a message or an emergency call to a chosen number. Optional function is a wrist loop which is attached to the handset. When it's ripped off it triggers an alarm.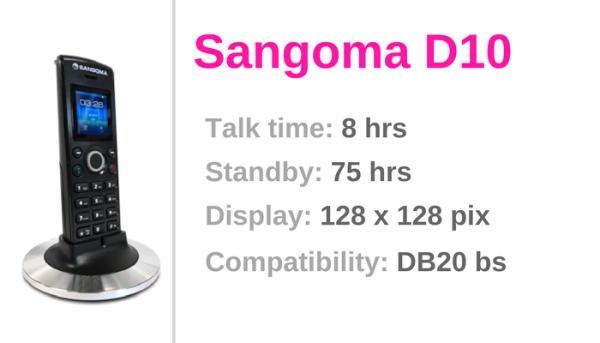 Sangoma currently offers one DECT handset – D10 – that fits smaller businesses. D10 handset can support up to 5 simultaneous calls. It has a belt clip. The battery lasts 8 hours in talk time and 75 hours in standby mode. It has 3.5mm jack. Display size is 128 x 128 pixels.