Published Δευτέρα 05 Αύγουστος 2019 08:21:00 UTC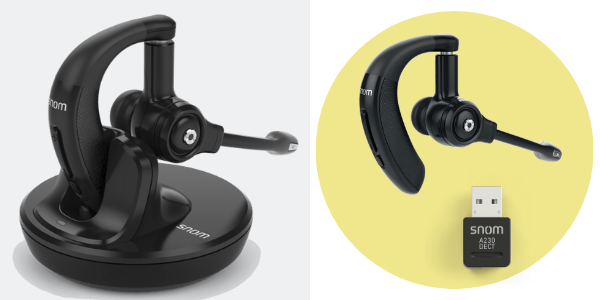 Snom A150 wireless DECT headsets are among the smallest and lightest in its class. However, they don't lack the functionality a user would expect.

Wideband audio and passive noise cancelling microphone are some of the features this headset has.

It comes with a charging cradle and has a rechargeable battery. If you wish or need, you can talk for several hours. Also you can move around while talking without losing signal. The A150 has 15m range.

LED indications for call and battery status are another useful feature.

To connect the headset to your phone you can use A230 DECT USB dongle which comes in the package. The A150 headset is compatible with Snom IP phones from the series D3xx and D7xx. It, also, works with C520 WiMi conference device. You can plug in the dongle into your PC and use your softphone client.

The headset has buttons for call control, volume, and mute.

You wear A150 wireless DECT headset over the ear. It has several ear pieces in sizes S, M, L, and XL so it can fit any ear type.

---