Published July 05, 2018 10:11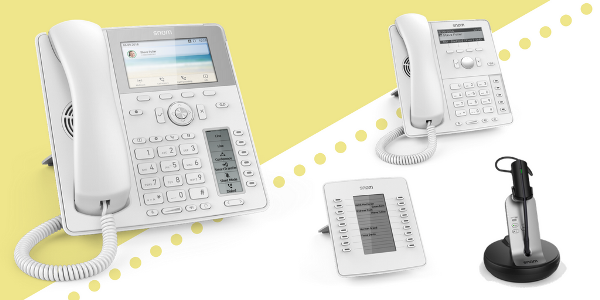 As announced earlier, Snom has launched a new line of white phones and expansion modules. Currently three models are available – D785, D715 and D7.

Except the color, white models share the same features as the black ones.

What is entirely new is A170 wireless DECT headset. This lightweight model is compatible with Snom phones (series D3xx and D7xx) and can be used with PC, too.

Superior sound is achieved thanks to broadband loudspeaker and a microphone that filters out the background noise.

For connecting with phones A170 uses DECT technology of its base unit and a USB cable for connecting with PCs. It has a range of up to 25m and three ways of wearing – directly on the ear, or by using headband or neckband.

For longer calls, longer in terms of battery duration, the A170 base unit has a back-up battery installed that you can activate even during the call without having to cut it off.

Furthermore, A170 has multipurpose status LED (in-call, charging, battery status) and buttons for answering the call, muting the microphone and increasing/decreasing the volume.

See the products here
Snom A170 wireless DECT headset

---